Personalised Blinds
Our Routemaster buses can be personalised for your wedding or event and have the following apertures available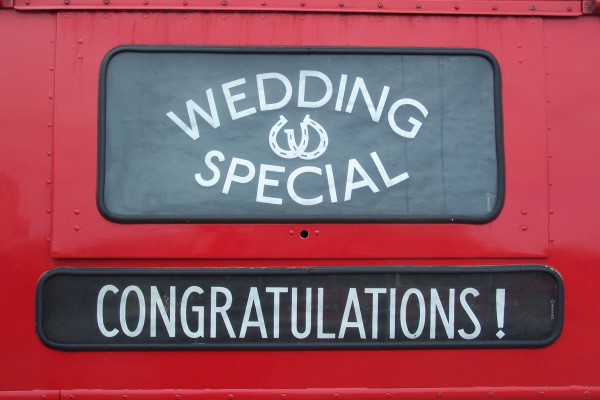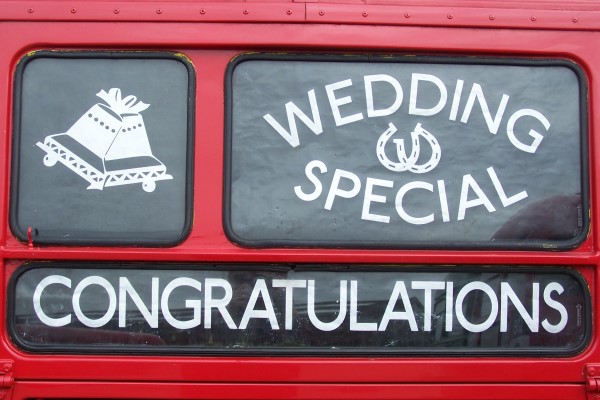 Dimensions for the viewable area are:
Routemaster Blind Box Sizes
  Front Via 25″w 12″L
  Front Ultimate 40″W 5.5″L
  Front Number 12″W 12″L
  Rear Via 32″W 14″L
  Rear Ultimate 40″W 5.5″ L
Normal location for personalised blinds is in place of the word Congratulations. Ideally a maximum of 15 characters or spaces before font becomes too small. If you would like names and date then front via one can accommodate two or more lines. Cost for these is £36 per panel and if you would like to keep them afterwards please state at time of booking and mention it to conductor at the end of the hire. If you are hiring a single deck classic bus then, unless there is a ladder available, at the end of the hire, we will have to take them out back at our garage and mail to you.
These panels are made specially, to your requirement and once ordered cannot be cancelled. They are prepared as authentically as possible using the same font and layout that London Transport prepared them in years ago. Once type set they are then printed on a modern product called 'Tyvek' a trade mark product from DuPont to make them easy to install and retrieve after hire plus it is waterproof and will light up in the dark.