Services
"Thank you so much for your kindness, patience and hard work in helping us with our special celebration. It truly was the most amazing day of our lives and we could not have done it without you."
Paul and Lee, August 19
Make it a day to remember when you arrive at the church or registry office in style in a shiny red vintage London bus. Take your guests from the ceremony to the reception without worrying who has to drive and who's going to get lost on the way. Have some of your wedding photos taken on and around the classic London bus.
Included in the bus hire fee we will decorate the front of the bus with white wedding ribbons and supply a stylish 'Wedding Special' destination blind. Please enquire if you require customised blinds. These are an additional charge. Other colour ribbon available on request if we have it in stock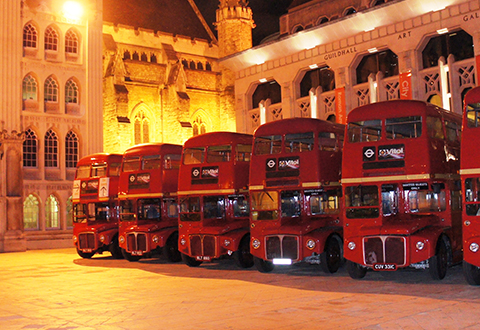 CORPORATE PARTIES
Whatever the occasion, we can help make your day go more smoothly by providing the last word in memorable transport for you and your guests. After all, it's not everyday that getting there is as much a part of the fun as the party itself with a classic iconic London Routemaster bus!
You are welcome to decorate the iconic Routemaster bus yourselves – we will arrive a bit earlier to give you time to do this.
We do not provide buses for birthday parties.
PRIVATE LONDON SIGHTSEEING TOURS
Hire a big red vintage London bus for a customized sightseeing or shopping tour of London. We arrange sightseeing tours for any number of people and will provide a Blue Badge tour guide on request. There is an additional charge for the guide depending on tour length and language required. The maximum number of people we can accommodate on board each Routemaster is 72.
The bus will be exclusively for your use, so you will be able to leave your purchases on board while you hop off and explore – there will always be at least one of our staff on the bus at any time.
We can help you design an itinerary, a detailed plan of your journey that will include a list of places to visit; plan of travel and so on…If you are not familiar with London, we can suggest our own tour. The trip can last as long as you like, from an hour to four hours. It certainly beats the big tour bus companies for the personal touch and is competitively priced for visiting groups.
Depending on the time of year we will quote for either a covered or open top Routemaster bus. Given the great British weather, we might swap an open top for a closed bus to ensure that you keep dry, but only in agreement with the hirer. A decision would have to be made by midday the day before to swap over. It will also depend if we have a closed top still available.
CLIENT ENTERTAINMENT
Thinking of a way to amaze your new or favourite clients? Overwhelm your guests by taking them to a sporting event in one of our open or closed top classic Routemaster London buses. Wimbledon, the Derby – they'll never be the same again! Alternatively, you may decide to take your overseas visitors for a bespoke tour of London or your local area.
CHRISTMAS PARTIES
Finding a restaurant is one thing, but what about the transport? With up to 72 seats, our iconic Routemaster London buses could be just what you're looking for to get everyone from work to the party.
FILMING
We have a range of vintage buses (not just classic Routemasters) for hire as a film or photographic location. Please enquire for further details.
PROM
Travel to your Prom in either a single or double deck London bus or even an open top one. Our double deck classic London buses are fitted with mp3 player lead and speakers on both decks. Please enquire for further details on bus hire.
CORPORATE EVENTS / SHUTTLE SERVICES
Are you organising an all day event, and need to get people there and back from a mainline station or between two locations? A hop on / hop off Routemaster bus provides a stylish and convenient solution.
TREASURE HUNT
We can provide the transport to take the party onto different areas of London for more clues to be discovered.